Do you know what emails you're sending your subscribers this holiday season?


Whether you want to drive online sales, boost year-end donations, or get shoppers into your store this holiday season, email marketing can help.


Start with the perfect holiday email template. Then, customize your message to show off your unique products, services, or mission.


Need some help getting started? Check out these 30 creative holiday email ideas from other small business owners:


(Not a Constant Contact customer?

Try us out for free

! Start your free 60-day trial to see how these ideas can work for you.)


1. Holiday preview sale

Give your audience the chance to beat the holiday rush — bring people into your store early with a holiday preview sale! You can encourage current customers to bring their friends, and even offer additional discounts to them for helping you spread the word about the event.






La Provence

, Rockport, Massachusetts


Bonus tip: When hosting a sale early in the season, make sure to offer a convenient way for new customers to sign up for your email list. Let them know you'll be following up with more updates about holiday offers later in the season.


2. Cyber Monday offer

If there's an e-commerce side to your business, make sure to participate in the annual online shopping event, Cyber Monday. You can send a series of emails leading up to Cyber Monday letting people know about special discounts, and send a final reminder when the big day finally arrives.


This year, Cyber Monday takes place on November 27th.






Schaller Gallery

, Saint Joseph, Michigan


3. Free shipping

There are many small things you can do to add value this holiday season. One of the easiest ways to add value is to offer free shipping leading up to the December holidays. You can encourage people to shop online or provide details so that customers can call to place an order.






William Roam

, Indianapolis, Indiana


4. Gift card bonus

In addition to traditional discounts, you can also look for ways to reward people for shopping small by adding a bonus prize, like a gift card or gift certificate.


Offering a gift card as a bonus can increase sales during the holiday season, and can also help introduce you to new customers in the process.






Prezo Grille & Bar

, Milford, Massachusetts

5. Holiday gift guide
Help your customers find the perfect gift with a holiday gift guide.

You can send a general mailing to your entire list, or create separate lists for different audiences and come up with different gift ideas for all of your different audiences (gifts for moms, gifts for your husband, gifts for your grandkids, etc).




No Rest for Bridget

, Irvine, California

6. Holiday coupon

Coupons can be used in a variety of different ways throughout the holiday season. You can use them as the focus of your email, or add a coupon to your regularly scheduled email newsletter as an extra bonus for your readers.




Inn at Seaside

, Seaside Oregon

7. Sample sale

Showcase some of the different products you offer with a holiday sample sale. For a business like

Sugaree's Bakery

, a sample sale lets customers experience their different recipes and share with holiday guests.

Think of ways you can let people sample your products and services this holiday season.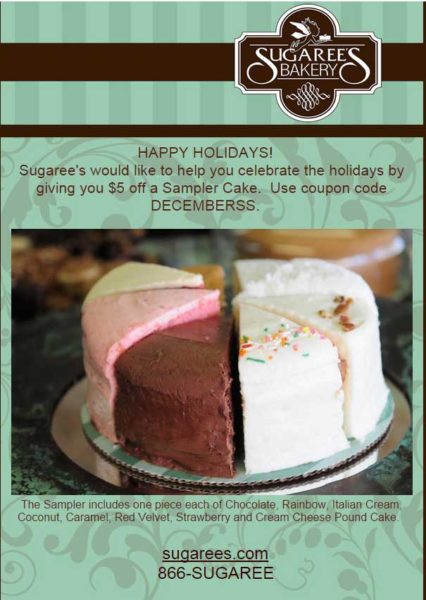 Sugaree's Bakery

, New Albany, Mississippi

8. End-of-year update

One of the best ways to celebrate the holidays is to reflect on all that you've accomplished in the previous year. As a small business, you share a special connection with your customers and they'll be happy to hear about all of your success.

Use the holidays to say thanks to your loyal customers and give them something to look forward to in the New Year.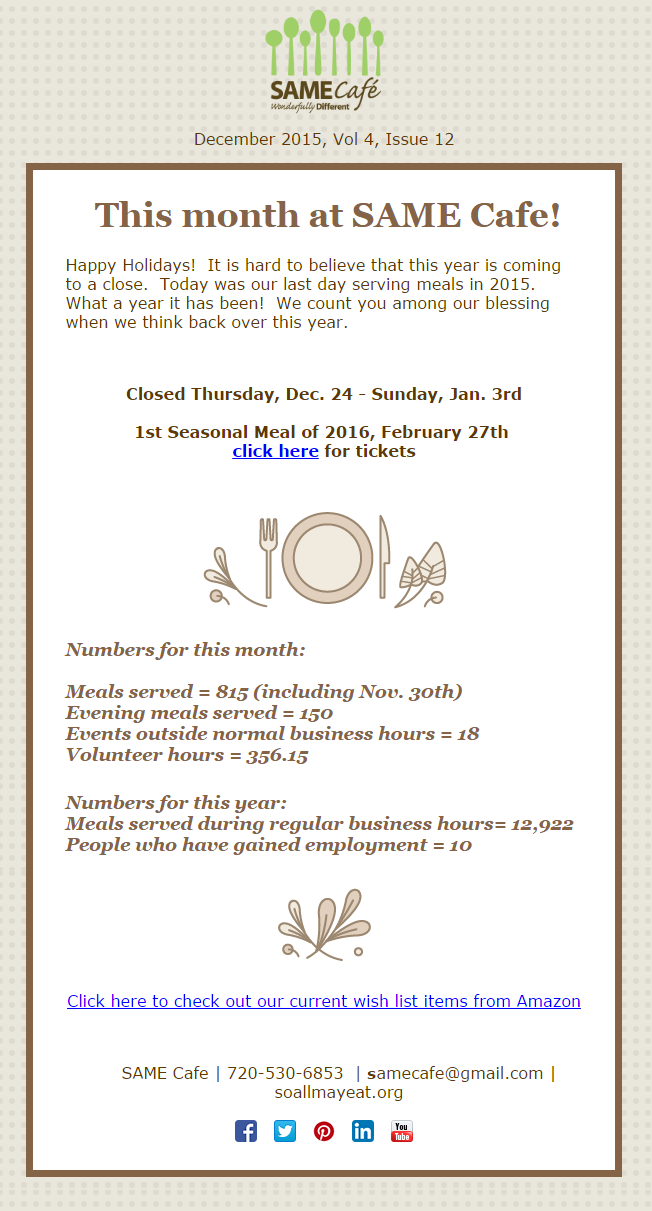 SAME Café

, Denver, Colorado

9. Extended holiday hours

Keep customers up-to-date about any changes in your schedule throughout the holiday season. Customers will be thankful for the reminder, and will be more likely to fit you into their holiday shopping plans.